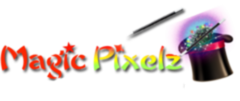 Welcome to Magic Pixelz
Hi my name is Ocean, This site is new and currently has limited content however more will be added in the near future. My wife Brenda Rogers is running the Magic Pixelz Facebook group so she is assisting folks that may have questions or need help as I am really busy creating new sequences and like you I also have my own show to set up and run for the up coming holidays. All sequences come with a help file and instructions and I recommend using the Easy Import method.
Some sequences have custom mixed sound files which you need not worry as I will make sure all needed audio is included. Other sequences require you to purchase the music due to copyright laws. I may ask for your receipt then I will send you the sound file via email. I will act fast getting you the file as I know once I myself purchase a sequence I want to import it immediately.
When it comes to sequencing in xlights I prefer to just let my sequences speak for themselves. I will do my best to keep my pricing affordable while balancing the hours of labor I must endure to create top quality sequences to make your show a dazzling, sensational blend of spectacular color that will certainly captivate very warm emotions from your audience. I like to call it, Phantasmagoria.
To see the available sequences simply use the [Store] button below.
Thanks for visiting our site and I hope you will keep returning to see the latest sequences. Don't Join the Magic Pixelz Facebook group to get awesome sequence discount codes. Only those who have joined the group will receive the codes.